Urns, Caskets & Memorials
We have a range of scatter tubes, caskets, urns and memorial plaques that can be included in your package. With options to suit all tastes, budgets and requirements, your 'Cremation Package' will be tailored and priced according to your needs.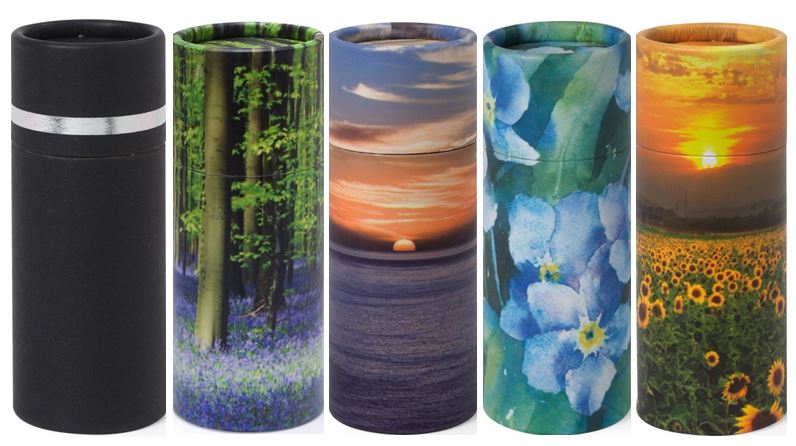 We offer scatter tubes in the designs shown above in a range of sizes and are included in the price of individual cremations.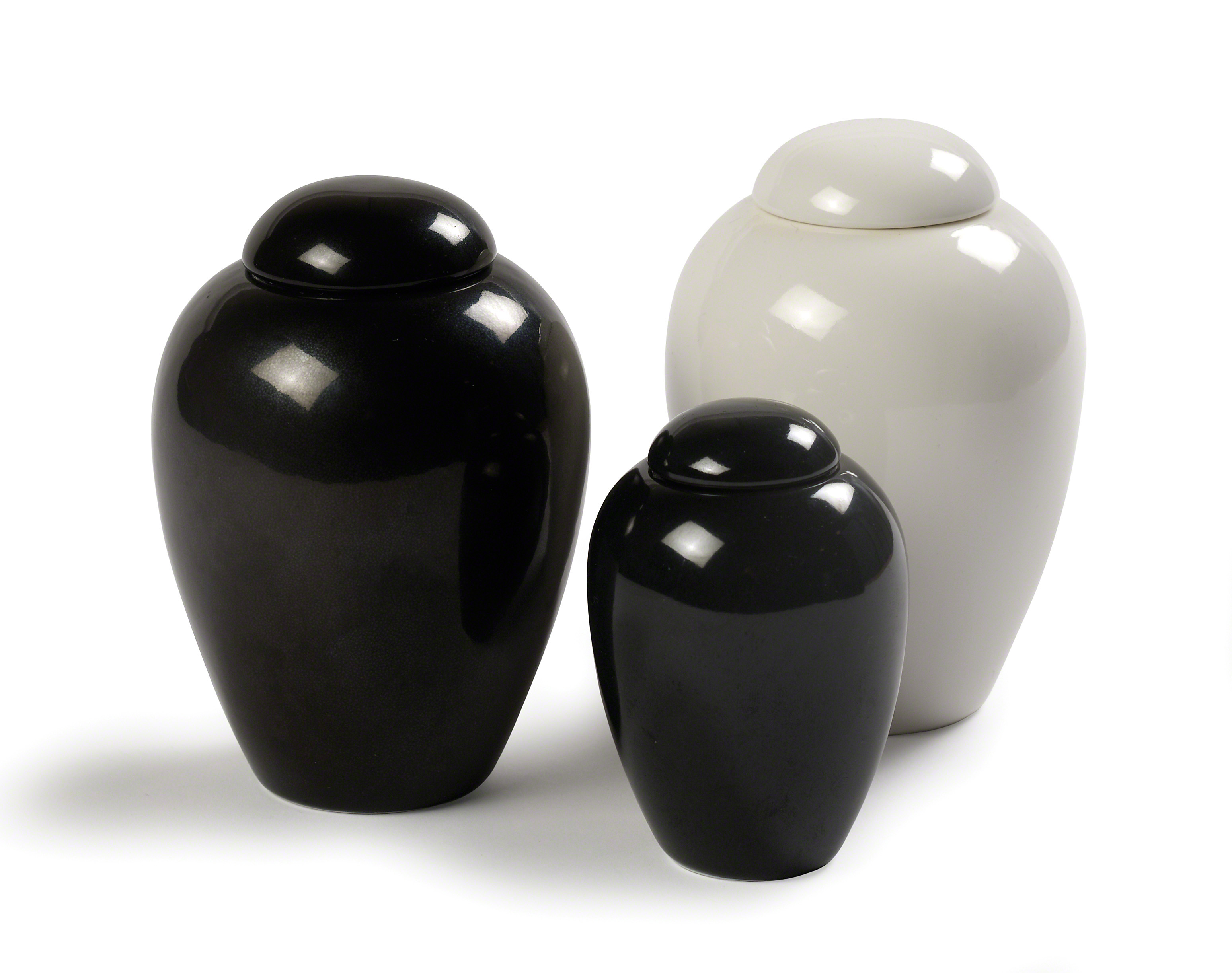 We offer these contemporary glazed porcelain urns in both black and white and in a range of sizes.
Prices vary from £18.00—£33.00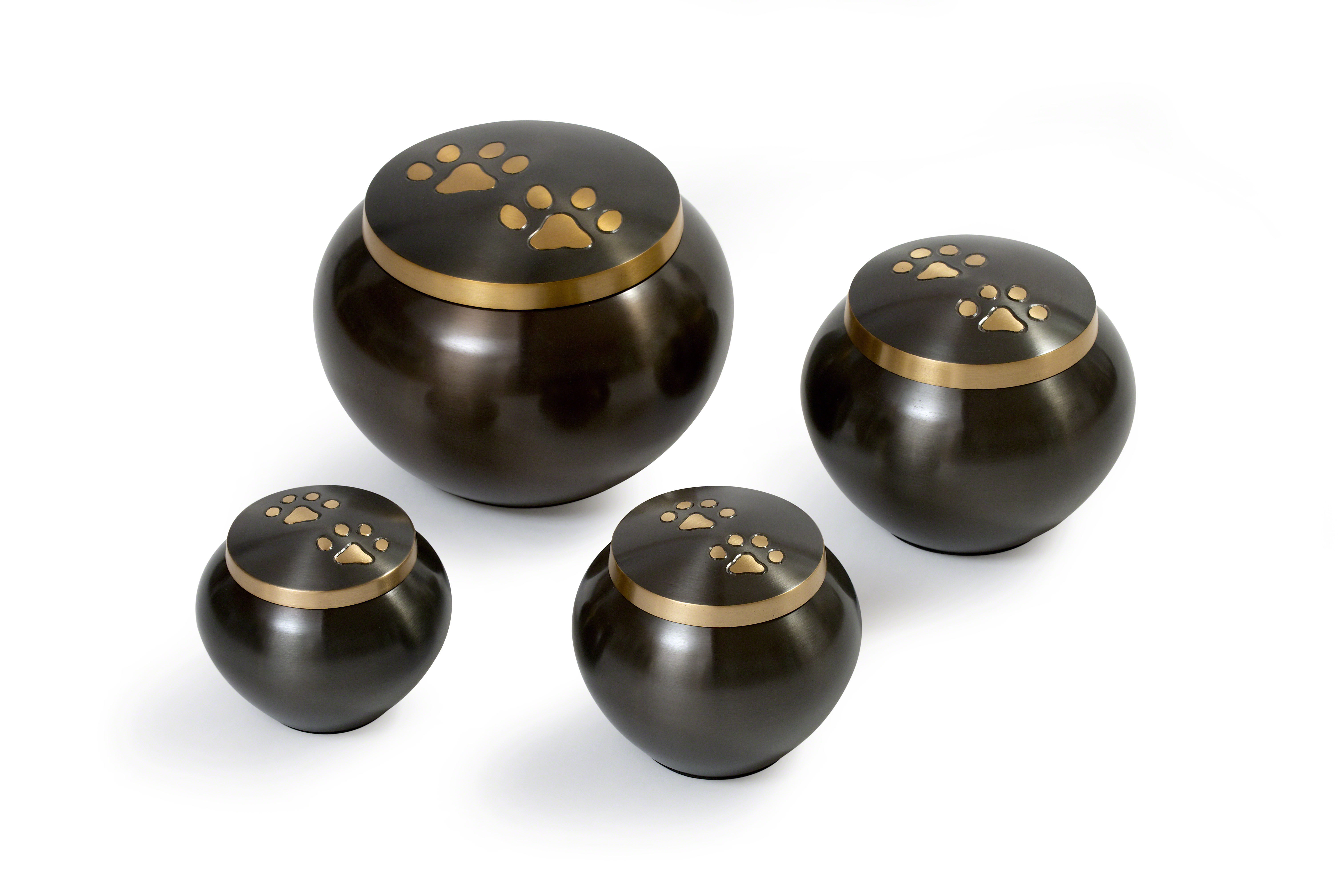 We offer these contemporary turned metal urns with a paw print design which has a sealable screw-on lid. These urns come in a range of sizes.
Prices vary from £28.00—£40.00
We offer a range of traditional style solid ash hardwood caskets in a natural and mahogany colour. These caskets have a screw-on base and are suitable for engraving. The style of casket will depend on the size required.
Prices vary from £20.00—£34.00
Please note that prices and colours are subject to availability and the size of the pet being cremated.
Paw Prints and Fur Clippings
Paw Print 
Paw prints are taken using an ink based system, onto quality cartridge paper.  You will receive the actual paw print on a piece of paper that your pet has touched. We can also send jpeg copies of the original paw print to your email address.
 Price £5 per paw
Fur Clipping 
You may like us to take a lock of fur as a reminder of your beautiful pet. We will select a nice sample, which will be carefully collected and provided to you in an envelope.
Price £5 each
We offer a range of memorial plaques which can be ordered at your request. We have a standard range available but can also request for bespoke memorials to be made, however, this will incur additional costs. Our standard range of memorials include a Slate plaque which is 4" x 6", an Acrylic plaque with a stand and a Beechwood plaque with stand.
Prices vary from £30.00—£65.00